22 Oct

Yeast extract is an ingredient on the rise
Did you know that yeast extract market is a very promising one?
Indeed, this ingredient has a very large range of applications due to its unique characteristics. It iss evidenced by many food products launches around the world. Consequently, the market follows a very positive growth, with a 18% CGAR (Compound Annual Growth Rate): it was valued at USD 1.1 billion in 2015 and is projected to reach USD 1.8 billion by 2024[1].
Why is it such a dynamic market?
Yeast extract market is composed of many fields of applications. The main one is the food segment. It already accounts for the largest yeast extract market share in 20151 and it is expected to witness the fastest growth. As a matter of fact, yeast extract has very interesting properties thanks to its natural and complex composition. It is an efficient tool to build complete taste profiles. This is mainly by bringing out some flavor notes, reduce and remove specific ingredients for clean label or nutrition purposes.
A very large spectrum of food and beverage applications
Lead by its strong application scope, yeast extract is becoming an ingredient you cannot miss. Used in several food and beverage segments, sweet or savory, yeast extract is performant in various processed foods even in canned and frozen goods.
Here are main food products launched using yeast extract[2]: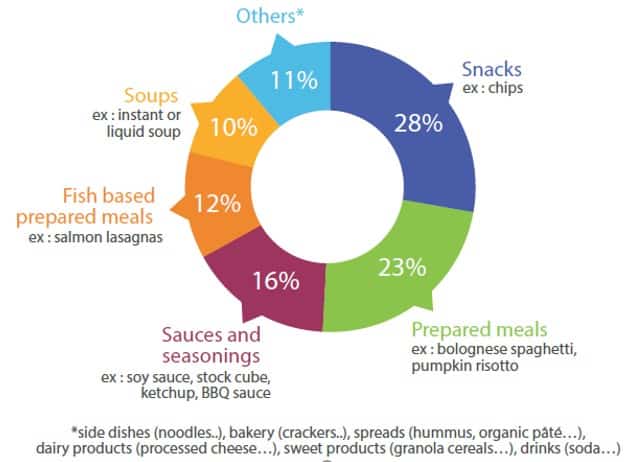 Trendy and technically interesting, yeast extract has the wind in its sails
Yeast extract comes from fresh yeast and is therefore a natural origin ingredient. It is an ingredient of choice for food and beverage formulations, especially at a time when consumers seek for healthier and nutritional but still flavorful products.
As a natural[4] food flavoring ingredient, yeast extract became a real ally for food industries and consumers. Indeed, 40% of global consumers are willing to pay more for a "natural" feature for food and beverage products[5].
Yeast extract has many characteristics useful to deal with current food formulation concerns. "How to improve the taste without additives or taste enhancers?"  Yeast extract is a clean label ingredient. It is a natural and simple flavoring ingredient like herbs and spices that are applied by cooks to create recipes. The finished-products containing yeast extract can announce "no additives" on the packaging. Among its unique features, yeast extract is also GMO-free, process resistant, Halal, Kosher, and usually do not contain gluten.
Furthermore, the 100% vegan nature of yeast extract allows uses in meat substitutes and animal-free products to bring meat or cheese notes. Interesting when you consider that 4 % of the products launched globally in 2016 have a vegan claim, and almost 12% have a vegetarian one[6]!
Regarding major nutritional challenges, yeast extract offers taste properties. The objective is to support the development of salt, fat and sugar reductions in food and beverages, without compromising taste. Manufacturers can reformulate their recipes and reduce up to 30% each of them, if not more, while maintaining the overall taste balance. In some cases, it can also mask the undesirable flavor notes, especially when using sweeteners or plant-based proteins.
Biospringer aims to improve taste and sensory properties of food and beverages
With more than 160 years of experience and know-how, Biospringer (through Lesaffre) developed a strong expertise in yeast fermentation and autolysis. By using a gentle thermal method, the nutrients and flavors contained into yeast are preserved to provide the best of its potential.
Biospringer also has an expertise on building taste and food formulation.  Thanks to the Culinary Center network and its food experts, Biospringer delivers close technical assistance to customers using natural6 and vegan yeast extract to meet their customers' need.
So many reasons to choose yeast extract of Biospringer in your uses!
[1]Global Market Insight, April 2017
[2] Mintel GNPD, 2018
[4] According to ISO TS 19657
[5] Euromonitor, New Lifestyles System Data: 2016 Global Consumer Trends Survey Results, 2016; https://blog.euromonitor.com/2016/09/new-lifestyles-system-data-2016-global-consumer-trends-survey-results.html
[6] Mintel, the future of proteins, Salon MADE, March 2017 http://2018.madeparis.com/public/media/pdf/15hconf28mars2017.pdf