28 Nov

The early days of Biospringer

Posted at 13:12h

in Sin categoría
The founder – Baron Max de Springer
In the headquarters' Bio Springer factory complex, in Maisons-Alfort, France, the atmosphere conveys something very special – a great family story & legacy. This yeast production facility is made of modern equipment and experienced people – who have been protected by historic walls for years. Indeed, the ancient industrial buildings are still there, showing plenty of signs of their past – concrete floors, brick walls, high ceilings and of course, the statue of its founder, the Baron Max de Springer.
Innovation, expertise & entrepreneurship
Max de Springer was born in 1807 in Austria, and created its own bank in 1836 in Vienna, Austria, and Paris, France. This real entrepreneur entered the sales business creating his first wholesaler sales outlet in Vienna in 1840.
Following, he created in 1850 an alcohol and yeast factory in Reindorf, in the suburbs of Vienna. The real adventure starts here as the Baron invented a real and unique process in yeast. This process enabled bakers to shape and bake breads that tasted better: less acidic, with a nice crust and a generous tender crumb. He called it the "Viennese way", that became very popular in the world of bred making and pastry! When the Baron Max de Springer presented this "Viennese yeast" at the Paris Universal Exposition in 1867, it became a huge success. Indeed, the Austrian bakery was considered very qualitative, and even the international jury members reported positively on it!
The Baron Max de Springer kept exporting his yeast from Vienna to France during many years. The hard competition of the similar Dutch yeast finally and the increasing demand, decided him to produce his yeast locally in France. Thus, in March the 23rd, 1873, he officially created «Springer and Cie» with his sons Gustave, Hermann and Alfred. They produced pressed yeast out of grains, and called it «Levure Française» (French Yeast). The Baron de Springer passed away in 1885, demising the factory to his three sons; but since 1972 the Biospringer site of Maisons-Alfort remains a factory at the origin of the industrial application of a unique process of manufacturing natural yeast.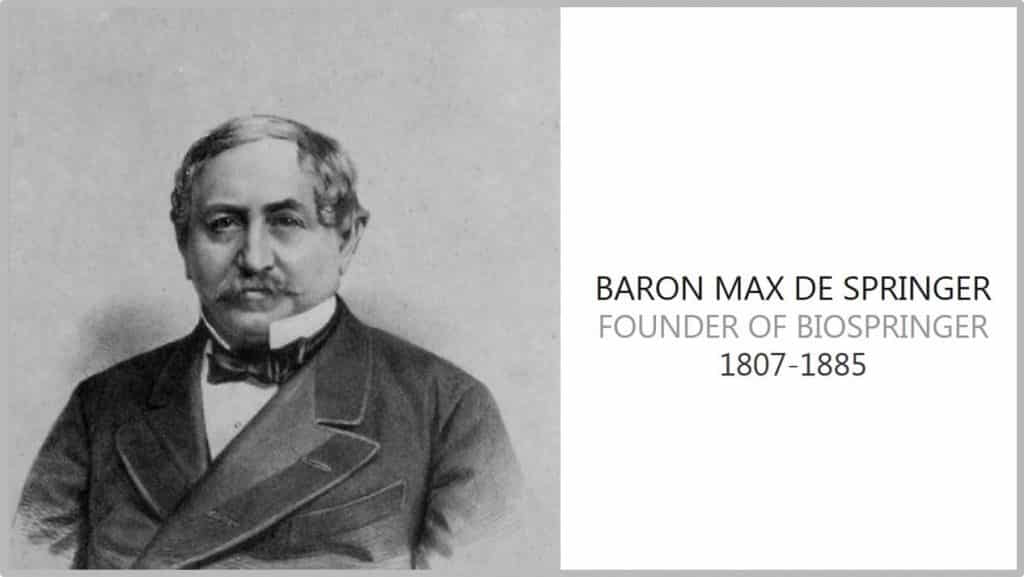 More to come about our History in our next chapter !
Source: http://www.leparisien.fr/val-de-marne/fould-springer-et-la-levure-126-ans-d-histoire-commune-05-08-1998-2000190068.php