25 May

Unlocking the Asian tastes with yeast extract

The world is more connected than ever, allowing consumers to travel and experience traditional cultures in different countries. "As we are in Asia Pacific, we are close to the market, and we observed trends shifts and acceleration over the past years. Interestingly, we discovered the emerging regional taste trend. Consumers are seeking authentic yet accessible region-specific cuisines. Aware of that trend, we responded swiftly by collaborating internally with the Culinary Center to create "Taste series", meaning to say we explored the key local taste profiles across Asia to identify the most popular ones. Then, we develop solutions to support food manufacturers in their taste challenges" explains Esther Ong, our Product Manager in Asia Pacific.
Different taste profiles across Asia Pacific
As the most inhabited region of the world, Asia has also the most diverse cuisines worldwide. Even if some ingredients cross borders, for example rice, soybeans or noodles, the cooking techniques and flavors vary differently from cuisine to cuisine. From one country to the other, one foodstuff can be appreciated uniquely and possess different flavor profiles. Moreover, while some cuisines will taste spicy such as the Indian one, others will be more umami like the Japanese one, and some more flavorful like Thai. From Sichuan-style crispy pork belly to miso soup, Indian curry and Thai coconut ice cream, the dishes are as diverse as the countries.
In 2021, Japanese, Indian, Korean, Chinese, Thai and Vietnamese cuisines were among the 10 most popular ones worldwide. This reflects that those cuisines all have various flavor profiles able to satisfy everyone.
Knowing that we cannot simply speak about "Asian cuisine" because of all the different flavor profiles across Asia, our experts decided to focus on top trends cuisines across Asia, first with a Japanese Taste Serie, and now with a Thai one. Our Food Technologist Ming Pei Yeo explains : "In alignment with market expectations, we create regional taste series based on key innovative concepts to bring taste solutions in local representative cuisines. This is to provide taste inspirations to the customers."
Our first taste serie: Experiencing Japanese Taste
All around Asia Pacific, Japanese cuisines are well appreciated and mostly enjoyed for their delicate taste and appearance. Indeed, Japanese foods are often consumer's "second choice" coming after local cuisines. Yeast extract, which is a natural ingredient, can help to bring many taste benefits. For example, in a Japanese Tonkotsu recipe, yeast extract helps to highlight the pork meaty profile, brings natural umami notes, and intensifies richness with a long-lasting savory sensation. As our main concern is always to answer to our customers' needs and expectations, we asked to our partner in Japan his feedback on our Japanese Taste Serie: "It is amazing to see how yeast extract can bring that many benefits in all segments (savoury and sweet applications) to improve taste and provide an authentic Japanese style recipe."
Experience the Japanese taste here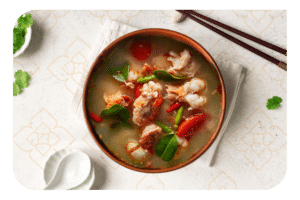 Thailand cuisine is part of Thailand's special traditional culture. For this reason, it has become a familiar destination to people from all over the world. Thai cuisines are all about blending a plethora of fresh ingredients to create a harmonious finish, particularly ingredients like lemongrass, galangal, chili and coconut milk. Most of the time, Thai dishes deliver explosion of exotic flavors and pleasant fragrances at every mouthful with a mix of sour, spicy, salty, sweet, and sometimes bitter taste for a satisfying taste experience. As a matter of fact, yeast extract can perform equally well in sweet applications such as the local desserts like the Thai coconut ice cream. It boosts up the original coconut flavor, increases coconut sweetness intensity, and improves the creaminess and richness profile.
Through five representative recipes, our experts demonstrated the benefits of yeast extract in Thai cuisine.
Discover the top Thailand taste inspirations using yeast extracts here