21 Mar

The flourishing market of instant noodles in Asia Pacific

Instant noodles are one of the largest segments within the ready meals category in Asia Pacific (APAC). With more than 100 billion servings consumed annually, instant noodles' demand is growing every year. Originally coming from Japan, this "comfort food" has never been more appreciated in Asia than in 2020. With 38 060+ million servings, it is unquestionably the leading market worldwide.1 Aware of the importance of this segment, our experts analyzed the last product launches to learn more about consumers expectations.
The top segments of instant noodles
The top segments are also representative of general trends in APAC. Meat flavor is one of the top flavors observed in instant noodles new product launches in the region, followed by Asian localized flavors and interestingly, spicy flavor has continued to lead the segment over the recent years. Regional flavor profiles are very popular in Asia Pacific. To give an example, Tonkotsu flavor, originally a Japanese taste, is becoming very popular. The same phenomenon is happening with spicy ramen from South Korea. Consumers are willing to discover new tastes from all around Asia with a full-bodied taste experience.
Let's develop on the three key innovative taste concepts among the taste category for instant noodles in APAC.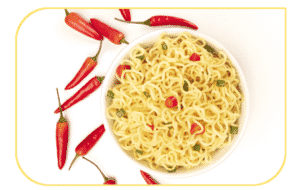 1.  Spiciness
Spiciness remained the top flavor last year as well as over the past 5 years.2 It is a key trend in Asia Pacific, and it is widely spread thanks to the localized flavor trend previously mentioned. Hot and Sour Flavored, Curry Laksa Flavored, Sichuan Mala Flavored, Black Pepper Crab Flavored, Spicy Kimchi Flavored, Wasabi Flavored… All those very popular dishes are spicy recipes. In those recipes, yeast extract is a good solution to highlight spices and herbs intensity and flavor perception.
Discover our solution to highlight spices in those key recipes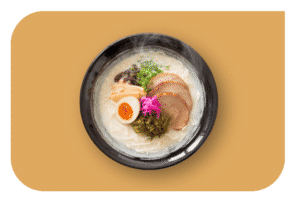 2. Savoriness
The top reason why consumers are fond of instant noodles are for its rich and long-lasting umami taste, creating a well-rounded flavor base for local Asian instant noodles. The umami taste also helps to enrich a wide variety of soup base profile for example meaty profiles such as chicken, beef, seafood profiles that are high in demand for Asian instant noodles new product launch. ​Here are some examples of savory formulations not limiting to meaty profiles: Chicken Bouillon Flavored, Japanese Miso Flavored, Japanese Dashi Flavored, Vegetarian Mushroom Flavored, Saucy Tomato Flavored, Seafood Flavored, Salted Egg Yolk Flavored… Yeast extract might be of help to food manufacturers. It contains rich amino acids, nucleotides and peptides that works synergistically to improve overall taste impression and provide long-lasting high natural umami in the formulation.
Discover more about our dedicated solution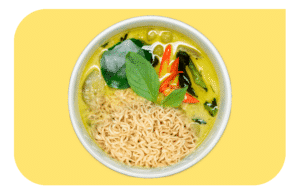 3. Creaminess
Consumers are seeking indulgence in Asian instant noodles. To meet the taste expectations, manufacturers are integrating creamy taste concept in the instant noodles with dairy and plant-based dairy ingredients to deliver richer, creamier, and balanced overall taste profile. You can think of Creamy Corn Flavored, Chicken Cream Flavored, Singapore Laksa Flavored, Creamy Tom Yum Flavored, Carbonara Flavored, Creamy Seafood Flavored, Chicken curry… In all of these, yeast extract highlights and intensifies creaminess. It has a neutral taste profile which serves as a good foundation to build a unique, complex, and complete overall taste profile in the rich and creamy instant noodles.
Discover our solution to highlight and intensify creaminess in local Asian recipes
Consumers are willing to eat clean labelled foods
More and more aware of what they eat, consumers are looking for healthier food with no preservatives, no E-numbers and less salt. Unfortunately, instant noodles have the reputation of being unhealthy because of the additives or preservatives used. Thus, food manufacturers' main challenge and final goal is to choose the appropriate natural ingredients to correspond to consumers' expectations. Yeast extract might be the solution they are looking for.
Yeast extract: a natural and clean label ingredient with many benefits
Yeast extract is a natural origin ingredient derived from fresh yeast. Due to a great diversity of taste properties, yeast extract's main benefit is the taste improvement in instant noodles applications such as intensifying spiciness, enriching creaminess and delivering savoriness for a well-balanced taste experience.
1 World Instant Noodles Association, May 2021
2 Mintel, 2021