16 Aug

Meet Hélène Jolivet, Biospringer's Global Culinary Center Coordinator

Biospringer is an historical key player and a global producer of yeast extracts which are commonly used by many professionals in the Food industry as a natural aromatic ingredient. Hélène Jolivet, Global Culinary Center Coordinator, explains how they get the best out of Biospringer's know-how and how different tastes can be issued from the yeast.
Could you briefly introduce yourself and your job at Biospringer?
"I joined Biospringer company (it's already been 7 years!) for the first Culinary Center opening near Paris, to answer customer request on yeast extract food applications. In 2010, we opened 2 new Culinary Centers: one in the US and one in China, to be even closer to our customers in those regions of the world. Our Culinary Center network is constantly growing, with 2 new openings in 2015 in Brazil and 2017 in Singapore."
What are the missions of the Culinary Center network?
"Our main mission is to support our customers in the use of our ingredients. We are here to help with our customers' formulas and needs, to choose the appropriate ingredients and their dosage in our range of products, in order to bring taste to their recipes. We can provide demonstration recipes to showcase our ingredients during customer visits or exhibitions.
Culinary Centers also evaluate new products prototypes developed by our Research & Development and Pilot teams, to be sure that we achieve the expected performance. Our worldwide team of Food technologists is able to formulate a lot of different food products, while including our ingredients in
recipes and evaluating their impact through sensory analysis."
How do you build taste ?
"Our ingredients are often named as building blocks. Some provide the essential flavor notes to bring body and depth to a recipe and some others are specific notes themselves, to drive the taste in a certain direction by providing a signature (chicken, beef, cheesy flavor notes). All bring umami taste & richness. Those 3 levels are necessary to build a rich and long lasting flavor and to ensure consumer pleasure and
satisfaction."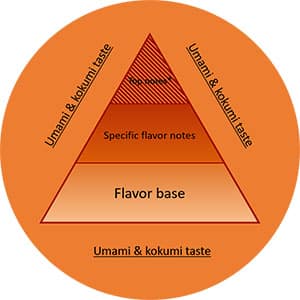 Can you explain how different tastes can be issued from the same organism?
"Biospringer's know-how to create products relies on the fullcontrol of each step of the yeast extract production process. From this invisible microorganism which belongs to the fungus family, our Research and Development team can yield numerous interesting components, not only for taste but also for other functionalities. They are able to get the most out of the yeast cream and obtain through the process more or less toasted, umami, meaty or vegetable flavor notes, according to customers' need. You can't imagine the extent of possibilities with the treasure of nature that yeast is!"
What is the role of the Culinary Center in this innovation process?
"Our role at the Culinary Center is significant by knowing the customers' requests and needs, plus all food products and ingredients worldwide. So we provide ideas to create new yeast products. As Food formulators, we also are aware of the other alternatives on the market, so we can benchmark them.
We take part in the final validation of new prototype development (evaluation of the performance) and, of course, in the promotion and showcasing of Biospringer's innovation !"
Know more about the Biospringer Culinary Center network in this video: