10 Apr

What is the global yeast extract market today?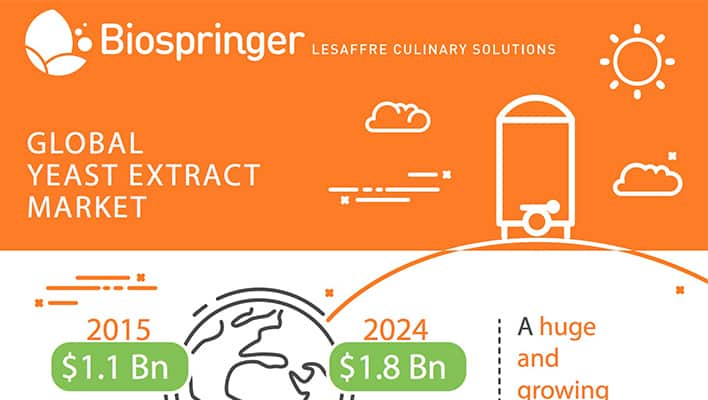 Our Biospringer team of experts in yeast extract has been studying and keeping a very interesting track of yesterday and today's global yeast extract market. They have summarized it in a few key figures for you, in a very dynamic and easy-to-read infography.
→ DOWNLOAD THE GLOBAL YEAST EXTRACT MARKET 2018 INFOGRAPHIC
A huge and growing market boosted by many food product launches all around the world,
It is indeed interesting to point out that there is an important and growing market worldwide for yeast extract, with a +63.6% rise between 2015 and 2024, going from $1.1 Bn in 2015 to $1.8 Bn in 2024.
This is boosted by the so many food product launches, all around the world, and the rise of interest of consumers for new food products, especially in the top 3 countries that are Japan, the United States of America and the United Kingdom.
What are the main food products launches using yeast extracts?
As you will find in this infography, among all the product launches using yeast extract, the main ones are snacks and prepared meals. It is interesting to learn that snacks – for example chips – represent 28% of food products launches with yeast extract, and prepared meals – as for example Bolognese spaghetti or pumpkin risotto, are 23%. In third position are the sauces and seasonings, such as soy sauce, stock cube, ketchup, BBQ sauces – which are accountable for 16% of the product launches using yeast extract.
Biospringer's yeast extract answers to the main consumer trends,
Indeed, the last part of the infography summarizes the main consumer trends of today's market, which have an impact all the way to the yeast extract industry. Those trends are separated in 5 important subjects, which are nutrition, organic, naturalness, vegan & vegetarian and clean label. Biospringer feels like being a trendsetter of yeast extract market, and our company puts all its experts' efforts to follow those consumer trends, through innovative ways in product formulation, food application, and also sensory analysis.